December 9, 2014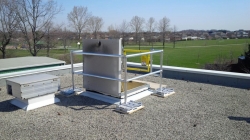 With injuries and deaths increasing from rooftop accidents, the government is enforcing regulations to ensure employees are safe. Ensure you are compliant with the TSSA's current version of the B149.1 "Natural Gas and Propane Installation Code". Clause 4.14.6 (b) states: "When an appliance is installed on a roof…b) the clearance between the appliance and the edge of the roof or other hazard shall be at least 6ft."
As a building owner or contractor, this can present a dilemma. It is unsafe for the contractor to work near a drop however it can be a costly venture to move an appliance. With the costs to move the appliance, you also have the deterrent of opening up a hole in your roof and sealing the old one, perhaps in some cases creating future problems.
There is an inexpensive solution, a product to eliminate the hazard, comply with the TSSA and keep you or your contractor safe. RoofGuard, a counter weighted system that can be quickly and easily assembled on most rooftops and requires no welding, drilling or bolting eliminating the need for roof penetration. The system utilizes a baseplate system to ensure optimum weight is allotted at engineered approved points. A guardrail/RoofGuard can create the 6ft clearance requirement as shown in the TSSA's FS-151-09 Advisory.
An application to apply for the variance FS-151-09, must include drawings of the roof, the appliance on the roof, and the location of the guard rail. Product specifications must also be included such as material and how the product will be fastened. Be sure to protect your employees with a professionally engineered product that has been rigorously tested to meet or exceed industry standards.
If you must do work near the roof edge, do it safely with the RoofGuard Restraint Anchor-attach your lanyard to the anchor. This portable system allows users the flexibility and portability to place the anchor points exactly where they need them, allowing work to get done safely.
Working around rooftop mechanical equipment safely, can be as simple as a passive solution of RoofGuardto ensure you are not only compliant but are protecting your workers from falls and liability.
Make sure your company is on the leading edge of safety!