Fixed Access Ladders
We offer a complete line of rooftop access ladders which are custom fabricated in order to meet your requirements; we ensure that all of our fixed access ladders are designed to meet or exceed all regulations regarding them, for more information about how we do this please click here.
All of our fixed access ladders are designed in order to be a safe means of accessing your rooftop and can be built with a cage if the ladder is more than five metres above the grounds, roof or floor level. We will design your rooftop access ladder in a way that ensures both the ladder and the cage provide your workers with a comfortable, efficient, and safe solution for when access to your rooftop access is needed.
Our ladders are engineered in order to support reasonable loads, while our cages are designed in order to ensure the safety of the climber, while also ensuring that an appropriate width is available for ease of movement.
We here at PARCS Ltd. offer a variety of fixed access ladder services including inspections, repairs fabrications and installations.
Learn about the Legislative Requirements of Roof Access Ladder Inspections Here>
We offer Fixed Access
Ladder Inspections which will enable you to be assured that your rooftop access ladder is safe.Learn More Here>
Learn more about our Inspection Process Here>
Benefits of a Rooftop Access Ladder:
We will design, engineer, fabricate, inspect and install your fixed access ladder.
Custom colours available to match existing structure
These rooftop access ladders are designed in order to meet or exceed all major governing bodies fall protection requirements including ANSI, OSHA, OHSA & WorkSafeBC; learn more here.

Custom Rooftop Access Ladders: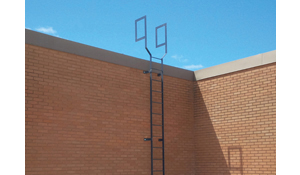 All of our rooftop access ladders are designed specifically for their applications. This ensures that the ladder meets and or exceeds all relevant safety regulations. This also ensures that any needed cages or resting platforms are included as the ladder is being designed, helping again to ensure that your ladder is compliant with all applicable safety regulations and will be able to meet or exceed your needs.
Related Fall Safety Products: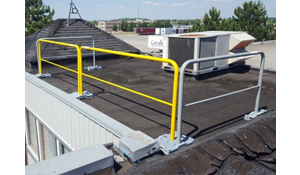 This rooftop fall protection system is designed with pre-fabricated rail sections which can be installed and dismantled quickly for temporary applications, without sacrificing quality, durability and most importantly safety.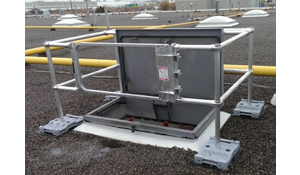 These free-standing rooftop fall protection systems, are designed to be a non-penetrating and will help prevent workers and contractors from falling into open roof hatches.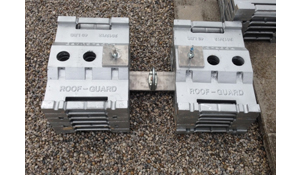 This Restraint Anchor is designed for individuals working near the roof edge. This portable system allows for users to have the flexibility needed to place anchor points exactly where they need them.
Additional Resources
Latest News
How to Be Safe During Rooftop Maintenance >
Are you working too close to the edge? >
When being light on your feet isn't graceful - avoiding slips, trips and fall hazards >