May 4, 2016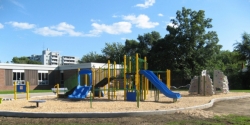 Every child wants to play, and one of the places that they go to in order to do so are playgrounds, which is why it is so important to ensure that every park is accessible for every child.
In fact in May 2007 the Canadian Standards Association or CSA released an updated version of its CAN/CSA Z164 or the Children's Playspaces and Equipment Standard. With this document came a new accessibility guideline called Annex H. This guideline is closely aligned with the Americans with Disabilities Act: Accessibility Guidelines for Play Areas.
The purpose of Annex H is to establish a minimum accessibility requirement for all newly constructed playspaces as well as any renovations and retrofits that need to take place on existing playgrounds. The purpose being to ensure all children can have fun when they go to a playground, and the only way to do that is to ensure that every child has a general level of usability of every playground. In fact, it is recommended all users of CAN/CSA-Z614 adopt Annex H as its Accessibility Standard for new and renovated playgrounds.
Learn more here.