Figure Skating Harness (Supply and Install)
PARCS is now offering a range of figure skating harness systems that allow professionals and students to dramatically reduce their learning time for double, triple and quadruple jumps. Harness systems are used by professional figure skating coaches across the world to help safely train figure skaters all the way from beginners to world champions to perform the multi-rotational jumps that you see in competition.
There are several advantages to having a jumping harness at your facility. It allows coaches to direct the jump, control the speed, keep the skater balanced in the air and make sure the skater's back is in the correct position upon landing. However, the main advantage of using a figure skating harness is to keep figure skaters from falling and possibly injuring themselves during training.
Harnesses are designed in order to support different ages and expertise levels of figure skaters, and PARCS is uniquely equipped to provide service for these figure skating harness systems including equipment supply, installations and inspections.
Note: It is required by Skate Canada that all harness systems be installed by a QUALIFIED installer. A qualified installer would be the OEM or an organization referred by the OEM (i.e. PARCS). The installation can also be done by a qualified/certified engineer (i.e. PARCS). 
Hand Held Figure Skating Harness System:
Three part anodized mast
Custom universal cross bar, rubber sling & sling cable
Full foam grip handle
Fully adjustable skaters body harness
Off-Ice System pulley and beam cord
40 ft. high quality 3/8 in. rope (max. ceiling height 20 ft. – additional length available)
On-Ice Track Figure Skating Harness System:
Cable System – to be mounted in the arena.
One skater's Deluxe Body Harness.
Running Wagon with a Double Pulley System (to keep the ropes from twisting) and double wheels on cable for faster ride.
Installation information and instructions for use.
Off-Ice Figure Skating Harness System:
Cable System – to be mounted in the arena.
One skater's Deluxe Body Harness.
Installation information and instructions for use.

Related Products: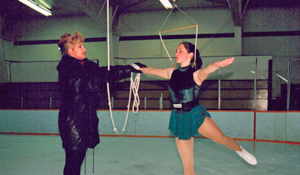 Figure skating programs across Canada use safety harnesses to teach skaters to perform a variety of jumps and lifts safely. Like all things that lift, they need to be inspected on a set schedule in order to make sure they continue to make skaters safe.

Learn More >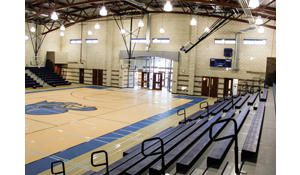 The care and safety of students and the general public rests on the shoulders of school boards and their employees. An important aspect in fulfilling this role is to recognize that there is an element of risk in all physical activity and to proactively act accordingly.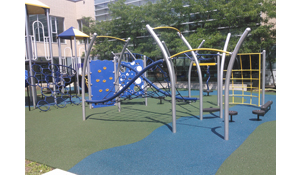 Outdoor Equipment Inspections including Playground Inspections are some of our most heavily utilized services we offer here at PARCS. These inspections not unlike many of our others encompass upwards of 4 governing bodies per inspection type.
Additional Resources:
Latest News:
The Safety of Playgrounds: Injuries on the Rise >
Are you working too close to the edge? >
When being light on your feet isn't graceful - avoiding slips, trips and fall hazards >