Facility Inspections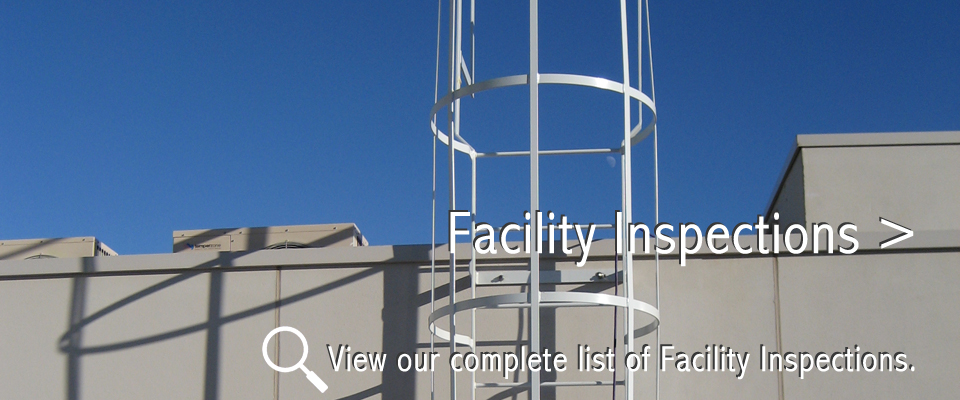 Often overlooked, are Facility Inspections at Municipal, School and Recreational Facilities. These inspections typically fall under the category of "other" and most of our customers are unaware that in most cases these are required by law to be inspected, annually.
Not unlike Auto Shop and Wood Working Inspections, Facility Inspections traditionally are a focal point of MOL Blitzes and enforcement initiatives. Slips, Trips and Falls Blitzes are routinely enforced year after year and represent a significant portion of all MOL penalties/infractions.
Here at PARCS, we encourage our customers to be vigilant in the inspection audit process and ensure possible infractions are addressed prior to injuries, not only after an unannounced MOL visit.
Below we have identified our complete list of Facility Inspections/Services. Click on the headings below to learn more about each particular inspection type.
Die Cart and Pump Cart Inspections >
Fall Arrest Harness and Lanyards Inspections >
Fall Arrest Support Systems Inspections >
Fixed Access Ladder Inspections >
Lift and Tilt Table Inspections >
Special Needs Equipment Inspections >
Here at PARCS, we do things a little differently. We utilize the latest in tablet technology to inspect your equipment, take inventory and deficiency photos, and record all your inspection certificates. Our state of the art G10 paperless inspection program is the first of its kind and has proven to set us apart from our competition. No paper means, lower costs and faster turn around times on your inspections! Our system synchronizes daily ensuring your inspection certificates are available the next day. Learn more about our process here >
Our secure customer login can be accessed at work, at home or on your smartphone and tablet devices; allowing you full accessibility of your equipment, repairs and inspections.
Additional Resources