Special Needs Equipment
When designing and approving your playground design it is critical to consider all types of special needs: physical, sensory, mental, emotional and social. Sensory stimulation can be achieved through the use of bright colours, signs, pictures and varying textures. Surfacing is a critical component of any playground, as you should aim to achieve two objectives simultaneously; provide adequate surfacing for potential falls as per CSA Standards, and improve accessibility for children in wheelchairs or other mobility aids. Poured-in-place synthetic surfacing, engineered wood fibre and rubber improve accessibility whereas sand and pea gravel may decrease accessibility.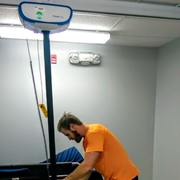 Special Needs Equipment Inspections
Our expert Technicians evaluate over 15 inspection points on special needs equipment, ensuring your equipment undergoes a rigorous and thorough examination.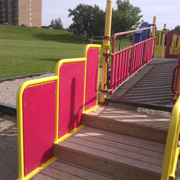 Playground Modifications for the Visually Impaired
Our team of professional technicians modified the existing playground so that a visually impaired student could use the playground easier.