Outdoor Inspections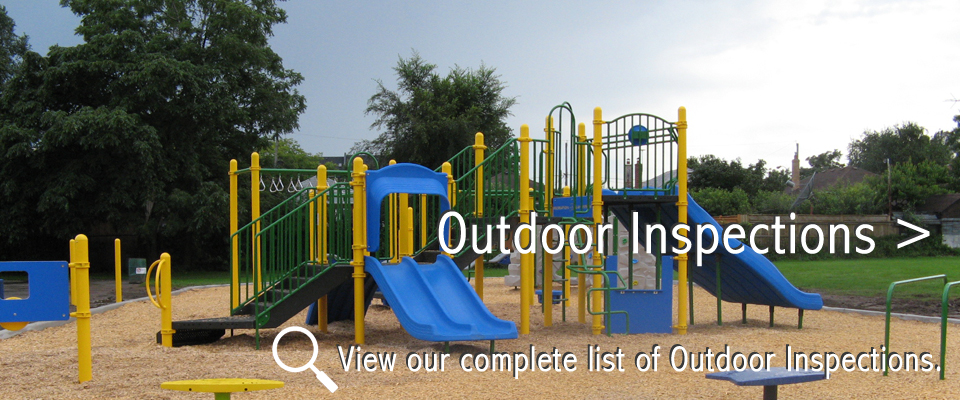 Outdoor Equipment Inspections including Playground Inspections are some of our most heavily utilized services we offer here at PARCS.
These inspections not unlike many of our others encompass upwards of 4 governing bodies per inspection type. It is not uncommon for our inspectors to inspect based on standards and codes that span across several governing bodies such as, ANSI, OHSA and CSA for example. Having such a rigorous and thorough inspection program is critical not only to the success of our Company but more importantly the safety of your students and the general public.
Below we have identified our complete list of Outdoor Inspections/Services. Click on the headings below to learn more about each particular inspection type.
Basketball Assembly Inspections >
Fall Arrest Harness and Lanyard Inspections >
Fixed Access Ladder Inspections >
Outdoor Equipment Inspections >
Playground Surface Attenuation Testing >
Here at PARCS, we do things a little differently. We utilize the latest in tablet technology to inspect your equipment, take inventory and deficiency photos, and record all your inspection certificates. Our state of the art G10 paperless inspection program is the first of its kind, nd has proven to set us apart from our competition. No paper means, lower costs and faster turn around times on your inspections! Our system synchronizes daily ensuring your inspection certificates are available the next day. Learn more about our process here >
Our secure customer login can be accessed at work, at home or on your smart phone and tablet devices; allowing you full accessibility of your equipment, repairs and inspections.
Latest News
Playground Equipment Involved in Rising Number of Injuries >
Preventing Playground Injuries >
Are School Playgrounds Safe? >
Additional Resources