About PARCS Ltd.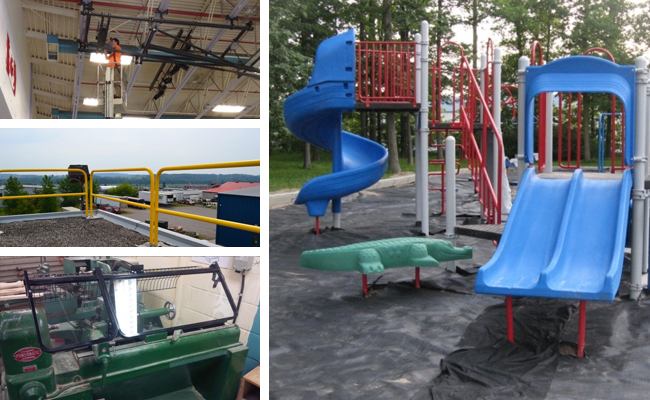 Since 2001, PARCS has worked hard to become a full-service company that can be a one-source solution to all your facility needs; we offer a complete line of safety services including playground installation, safety inspections on a wide variety items, on top of maintenance and repairs of your recreational and playground equipment.
We have broken our product and service offerings down into six main categories shown below: 
Our dedicated installation team consists of expertly trained

 

CPSI Inspectors,

 

Installers combining to provide over 35 years of Playground Installation experience, and

 

Licensed Millwrights. Having such a diversified and experienced install team allows us to quickly address and resolve any potential problems while ensuring deadlines are upheld, within budget! In addition, PARCS Ltd. has a corporate structure in place to service large customers efficiently and effectively.
We inspect a wide variety of different pieces of equipment, and many of the inspection services we provide are mandated by governing bodies and are recommended to be completed at regular service intervals. We also ensure that our employees dress in company uniforms and wear a photo ID. We secure criminal record checks and fully train all of our technicians to ensure that you receive reliable, accurate inspections and solutions every time. Above all, PARCS Ltd. employees are dedicated, highly skilled and competent individuals, who are committed to ensuring the safety of your equipment.
We offer a wide variety of products in order to keep both you and your students safe some of the products we offer include machine guarding and our line of fall prevention devices called RoofGuard. Both of these lines of products are designed in order to keep you safe whether you are working in the woodshop or conducting maintenance on the roof.
In addition to the already spoken about products and services we also offer a variety of additional services including playground relocations, playground surfacing upgrades and maintenance, retrofitting, machine guarding, engineering reviews and more!
PARCS Ltd. we provide our customers with an online customer portal which provides our customers with superior service. Our on-going commitment to revolutionizing the industry with our technologically advanced reporting methods provides our customers with diligent, professional, comprehensive reports.
Our $5 million liability insurance coverage is specifically designed for the Educational, Municipal and Institutional workplaces. PARCS Ltd. provides its customers with due diligence in the area of Health and Safety. Our competent professionals will provide quality workmanship, which is carried through to our clear, concise report, on top of this we guarantee to deliver the highest quality products and services; if our customers are not completely satisfied with the product or service we have delivered, we will make it right!
At PARCS Ltd., we work hard to earn your business. Let us show you why we are the leading authority on safety and innovative design. We offer superior products that are manufactured by industry leaders who meet or exceed our high standards for quality, service and on-time delivery; our professional and knowledgeable staff will be proud to assist you in any way.