July 15, 2016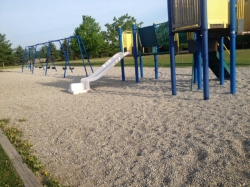 We are very excited to announce that one of PARCS technicians will be travelling to Ottawa to supervise a Blue Imp playground installation on Giver TV Show. TVO Kid's award winning program 'Giver' has kids helping to build playgrounds in their local Ontario communities.
Over three seasons, Giver has built and transformed 33 playgrounds, with over 200 children and thousands of volunteers. Kids and volunteers help to dig holes, paint the pieces and hammer the nails for their new playground, to share their stories and create a positive change for Ontario.
In celebration of Canada's 150th birthday in 2017, Giver will build the largest playground in Canada at the Ottawa location that PARCS will be supervising. The 4,600 square metre playground will be shaped like Canada and have a different play space to represent each of the country's provinces and territories. This playground will also attempt to break the Guinness Book of World Records for the worlds largest set of continuous monkey bars. PARCS is thrilled to be apart of this amazing project!
For more information about our playground installation's click here.
For more information about our playground inspection's click here.