March 18, 2016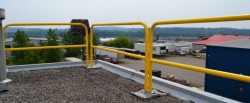 And with it, it is time to start thinking about rooftop maintenance. Though not just rooftop maintenance, but how you plan on completing your maintenance free of potential risk and injury.
The obvious answer would be to invest in getting a fall arrest and restraint system for your business which are where or RoofGuard line of products comes in.
For more information about the benefits of RoofGuard you can read this article.