October 16, 2013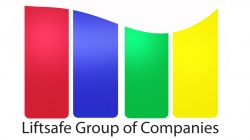 We are thrilled to announce the launch of our new Liftsafe Group of Companies Logo.
This new logo includes elements of all four of our companies and will aid in building our brand as we continue to grow within our respective industries. As we look towards the future, our new logo symbolizes our commitment to growth and innovation, while maintaining exceptional levels of customer service and satisfaction.
What's changed...
The unveiling of the new logo symbolizes our commitment to utilizing our extensive resources and knowledge to provide complete solutions, services and products. Your needs, as our customer, have evolved and so too have we.
We will be able to leverage a diverse and experienced team of professionals to complete even the most challenging of requests.
What's stayed the same...
Each of our four companies will remain under the same name with their current logo and branding. We will continue to provide exceptional products and service within our specific industries.
The Liftsafe Group of Companies includes:
Liftsafe Engineering and Service Group Inc.